Topics this week: Financial Peace / Emergency Savings / Are you Healthy?
What is your plan for pursuing Financial Peace?
Have you ever imagined what it would feel or look like to be stress-free about money? It's not uncommon for most people, wealthy or not, to worry about money. One recent study by the American Psychological Association found that money was the leading cause of stress among Americans, and 64% of people consider money to be a somewhat or very significant source of stress1.
While there's no guarantee that any amount of planning or investing can cure all your worries, taking proactive control of your financial situation and future can significantly help you feel more confident.
We ask the question (What would Financial Peace look like in your life?) to some of our clients and here are some of the responses:
It means that I have control over my finance, I'm not living paycheck-to-paycheck.
I have a plan (that I follow) governing my major purchases and my retirement.
I have a savings account with enough set aside to get me through almost any emergency, including a 6-month period of unemployment.
It means being Debt Free (well, except my home) and not having to worry about payments.
It means we aren't worried about how we will assist our kids financially in attending college.
It means I am not worried about how my death would affect my family's financial security.
It means having a professional help me invest my money, rather than just picking funds and hoping they perform well.
It means knowing exactly how much I need to save to reach our financial goals.
The next questions is not HOW do I pursue financial peace but WHY do you want to pursue financial peace. As humans we tend to be compelled by reasons for doing something and need that intrinsic motivation. Our WHY leads us to a greater sense of purpose. Purpose is not an amount in the bank. Beyond the money in your account, what will still keep your flame going in a decade?
We will explore this topic further next week.

Dave Conley, CFP
1 http://www.apa.org/news/press/releases/stress/index.aspx
---
Weekly Economic Update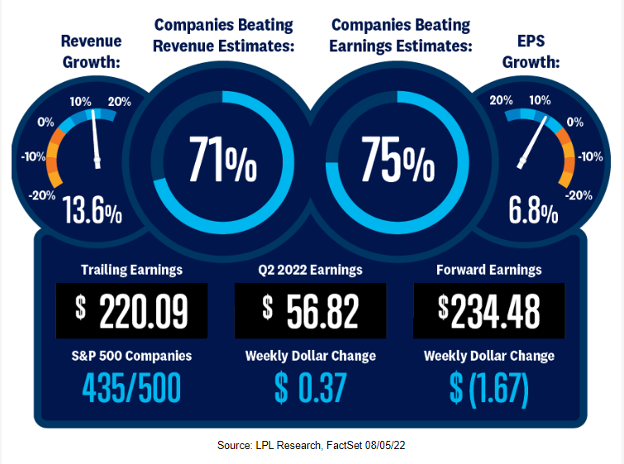 Second Quarter Earnings Continue to Build on Earlier Upside
Following another huge earnings week, nearly 90% of S&P 500 companies have now reported.
Second quarter S&P 500 earnings growth is tracking to a solid 6.8% year-over-year increase.
Energy is by far the biggest earnings growth driver and has produced the biggest upside earnings surprises along with healthcare and utilities.
Consensus still expects 9% Earnings Per Share (EPS) growth in 2022, (that is slightly above LPL Research estimates).
For 2023 consensus estimates near $245 per share remain too high (LPL Research estimate remains at a more conservative $235).
Using a price to earnings (P/E) multiple of (15 to 18) x 2023 expected earnings ($235), and you get an expected S&P 500 valued at between 3,525 – 4,230 for next year. (Currently at 4,210).
As of Wednesday, the S&P 500 Index is now up 14.8% from the June 16th low, while the Nasdaq Composite is up over 20%.
The percentage of stocks in the S&P 500 above the 50-day average at 84% is getting closer to the key 90% threshold that we noted last week could indicate this market rally could have legs.
The S&P 500 has just 20 points to go (4230) to reach its 50% retracement level, which has historically been a reliable signal of the start of a new bull market.